Znakowanie mikropunktowe
Idealne do masowej produkcji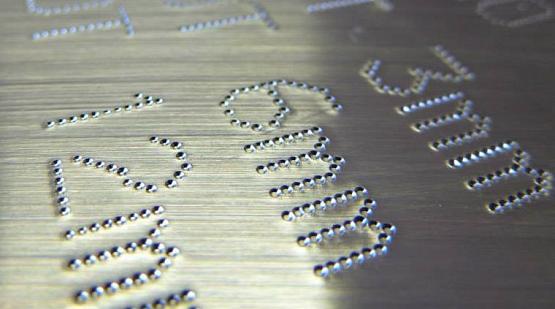 Dlaczego znakowanie mikropunktowe?

Znakowanie mikropunktowe (inaczej znakowanie mikroudarowe lub dot peen) polega na uderzeniach specjalnej igły w materiał. Powoduje to powstanie szeregu zagłębień (punktów), które układają się w konkretny wzór. Znakowarki mikroudarowe zalecane przede wszystkim do zastosowań wymagających znakowania głębokiego, danych sterowanych komputerowo (np. komunikacja szeregowa, czytnik optyczny lub korzystanie z własnej bazy danych) oraz dużej liczby znakowanych części.

System mikropunktowy może nanosić znakowanie bezpośrednio na dowolnym stałym materiale, od metalu po tworzywa sztuczne. Oznaczenia mogą przybierać postać dowolnej grafiki w formacie wektorowym, np. logotypu, symboli, cyfr, liter czy kodów DataMatrix. Operator może wybrać specjalny tryb dla matrycy (sterowany punktowo) lub ciągły wygląd.
---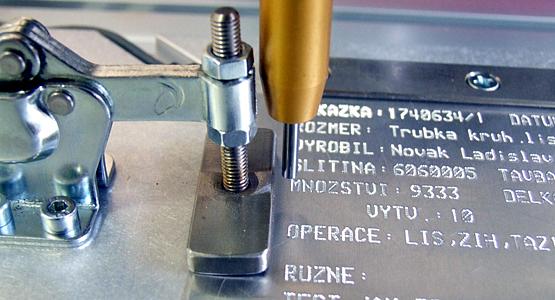 Co musisz wiedzieć zanim zaczniesz?

Wybierając znakowarkę mikropunktową należy wziąć pod uwagę maksymalny rozmiar grafiki, jaka ma się znaleźć na znakowanym elemencie. Jest to wstępna decyzja dotycząca głowicy znakującej ze względu na różny obszar znakowania. Znacznik jest napędzany sprężonym powietrzem (modele pneumatyczne) lub elektrycznie. Mikroudarowe znakowarki elektryczne mogą być używane szczególnie do użytku przenośnego (za pomocą uchwytu ręcznego) lub gdy nie masz sprężonego powietrza w biurze (zakładzie produkcyjnym).

Możemy oznaczyć dla Ciebie przykładowe części, abyś mógł ocenić, czy efekt jest dla Ciebie satysfakcjonujący. Dzięki temu łatwiej będziesz mógł podjąć decyzję dotyczącą konkretnej maszyny i jej ustawień.
---